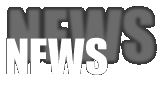 SARKE - New Single Premiere "Grim Awakening"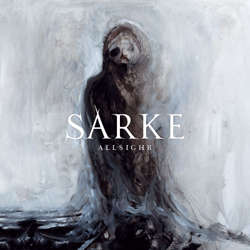 Norwegian extreme metal act SARKE has revealed the third and final single from the upcoming studio album "Allsighr"!

"Grim Awakening" is a driving and rousing track displaying a natural attraction to darkness, finished off by the cruel vocals of Nocturno Culto.

Check it out here: https://youtu.be/cDU2np9ET9w

"Allsighr"will be released worldwide via Soulseller Records on November 5th 2021. It was recorded by Børge Finstad and Kevin Kleiven at Top Room Studios, mixed by Lars Erik Westby at H-10 productions and mastered by Thomas Eberger at Stockholm Mastering. The artwork was created by Kjell Åge Meland.

On their 7th full-length, SARKE continue to exploit their unusual mix of 70's rock, 80's speed metal and 90's black metal, resulting in an album full of heavy-rocking and groovy metal while not forgetting the unique psychedelic, doomy and dwelling passages.

Pre-order options: https://soulsellerrecords.bandcamp.com (World) +++ https://soulsellerrecords.aisamerch.com (Americas)

Tracklist:
1. Bleak Reflections
2. Grim Awakening
3. Funeral Fire
4. Allsighr
5. Beheading Of The Circus Director
6. Through The Thorns
7. Glacial Casket
8. Sleep In Fear
9. The Reverberation of The Lost
10. Imprisoned

https://www.facebook.com/sarkeofficial +++ http://www.soulsellerrecords.com

---
SIJJIN - Song Premiere "Condemned By Primal Contact"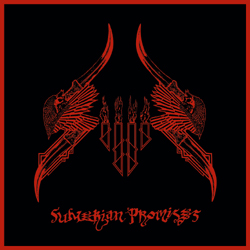 Rising Death Metallers SIJJIN have premiered a new song from their upcoming debut album "Sumerian Promises", coming on November 12th, 2021 via Sepulchral Voice Records.

Check out "Condemned By Primal Contact" at this location: https://www.invisibleoranges.com/sijjin-premiere-interview

The basque/german collaboration has proved extraordinary musicianship while recording all songs live as well as using full takes only. No cuts, no edits, no bullshit. Faithful towards the magic of the elder gods of Death Metal, SIJJIN undoubtably have managed to bring life unto death, or otherwise set death alive. Merely the instrumental passage "Hunting The Lizard" allows a moment to catch some breath while transporting the listener amongst the stone walls of an ancient desert temple.

With "Sumerian Promises", SIJJIN rise the flag of untamable, pitch-black and archaic Death Thrash Metal, rising from the shadows to embrace the unsuspectingly victim with sheer brutality. Harken and behold! Sumerian Promises shall unfold.

Pre-orders: CD & Vinyl + Digital

Tracklist:
1. Daemon Blessex
2. Dagger Of A Thousand Deaths
3. Those Who Wait To Enter
4. Sumerian Promises
5. Angel Of The Eastern Gate
6. Hunting The Lizard
7. Unchain The Ghost
8. Darkness On Saqqara
9. White Mantras Bleed From Black Magic
10. Outer Chambers Of Entity
11. Condemned By Primal Contact

www.sepulchralvoice.de +++ www.facebook.com/Sijjin-102605617799602

---
MEMORY GARDEN - New Video Clip "1349"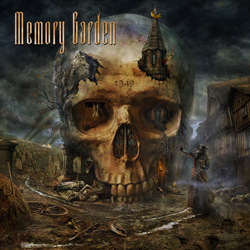 Swedish Power Doom Metallers MEMORY GARDEN have revealed a video clip for the title track of their ucpoming new album "1349"!

"1349" - Official Video Clip: https://youtu.be/dfl41Qh9y0k

The band's sixth studio full-length will be released on December 17th, 2021 via No Remorse Records. It was mixed and mastered by Dan Swanö and features guest apearances of artists such as Niklas Stålvind (Wolf), Josefin Bäck (the original voice of "Marion" from the first demo in 1993!) and Göran "Freddy" Fredrikson (medieval instruments). The artwork was created by Hjules Illustration and Design (Destruction, Grave Digger, Annihilator, Stratovarius).

"1349" is a conceptual album and the storyline covers both fact and fiction, taking place during the pandemic years of the black plague. "Stefan and I were talking about how the new songs were coming together nicely, and he told me he really wanted the album to carry a concept", states drummer Tom Björn. "We started contemplating different themes that could fit our music, and we both got hooked on the black plague. A very dark and tragic period of history... We drew some guidelines, or a few key words for the concept, and after that I developed the story incorporating a few facts with the fictive elements. It's not a linear timeline throughout the album, but a few songs are connected by the same character and happen in the correct order. Some things have to be read between the lines though."

Tracklist:
1. Shallow Waters
2. Pariah
3. Distrust
4. Rivers Run Black
5. The Flagellants
6. The Messenger
7. The Empiric
8. 1349
9. Blood Moon

Available formats will be CD, CD limited digipak, Double LP and Double LP limited coloured. The vinyl records and digipak will also include the following bonus tracks:
1. Unrestrained
2. Heart Of The Dark (Demo 1993)
3. Legions Of The Lost (Demo 1993)
4. Up From The Ashes (Demo 1993)

www.facebook.com/memorygardenofficial +++ https://www.noremorse.gr

---
UNDER THE CHURCH - New EP "Total Burial" via Pulverised Records - Details & Trackstream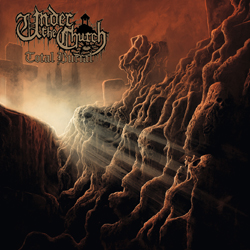 Sweden's chainsaw-fury UNDER THE CHURCH returns once again with an unflinchingly powerful EP titled "Total Burial", featuring five tracks of furious and unprocessed HM-2 greatness!

"Total Burial" strikes with perfect execution and sounding more vicious than ever. These old-guards have kept the OSSDM flag up high, never compromising on how Death Metal should be. The EP was recorded at different studio locations between Studio Paradis, Studio Qlaque and Studio Strömsaahl, the mixing and mastering was handled by Robert Pehrsson at Studio Humbucker (Robert Pehrsson's Humbucker, Dead Lord, Cobra Cult, etc). Cover artwork by Swedish illustrator Mattias Frisk (Ghost, Vanhelgd, Trap Them, Night, etc).

It will be released on December 3rd 2021 via Pulverised Records on CD, tape and digitally. The vinyl release date will be announced at a later date in 2022.

Check out the opening track "Day Of Reckoning" here: https://youtu.be/lYhcoh_C3Ok

Tracklist:
1. Day Of Reckoning
2. Spit On Your Grave
3. Total Burial
4. Depraved Vocation
5. Just Another Death

www.facebook.com/UnderTheChurch +++ https://www.pulverised.net

---
HITTEN - New Single / Video Clip revealed - "Hard Intentions (Secret Dancer)"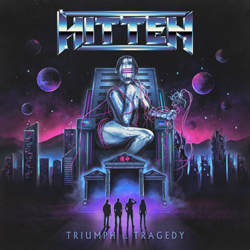 Spain's classic Heavy Metal force HITTEN has revealed another single from their upcoming new album, "Triumph & Tragedy"!

A video clip for "Something to Hide" is available at this location: https://youtu.be/HKipMJUzoTA

"Triumph & Tragedy" will be released via High Roller Records on November 26th 2021.

The band's fourth full-length showcases an evolution that takes the band to a closer sound to the US Hard and Heavy from the 80s with guitar riffs that could match the magic of guitar heroes such as George Lynch or Paul Gilbert. About the vocals, it is definitely hard to find a singer who hits the high octaves the way the singer Alexx Panza can do, clean and melodic with an outstanding quality that will delight the ears of fans of bands such as Firehouse, Crimson Glory, Queensrÿche or Riot. "Triumph & Tragedy" establishes HITTEN as one of the best Heavy Metal bands nowadays!

The cover artwork was created by Marc Schoenbach (Sadistart Designs) while the back cover and booklet graphics have been made by Dani Meseguer (Bloodyart Designs).

Tracklist:
1. Built to Rock
2. Eyes Never Lie
3. Meant to Be Mean
4. Hard Intentions (Secret Dancer)
5. Ride Out the Storm
6. Core of the Flame
7. Under Your Spell
8. Light Beyond the Darkness
9. Something to Hide
10. Triumph & Agony

www.facebook.com/HITTENOFFICIAL +++ www.hrrecords.de

---
ORGANIC - New Trackstream "Knives"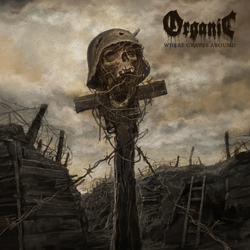 Old School Death Metal Maniacs ORGANIC have revealed another single from their upcoming sophomore full-length, "Where Graves Abound"!

Check out "Knives" at this location: https://youtu.be/YO3v9FUILvk

The follow-up to ORGANIC's crushing debut "Carved In Flesh" (2018) will be released on 22nd October 2021 via Testimony Records on limited LP (Transparent Swamp Green, Gold & White), CD and in digital formats.

It was recorded at Sound Control Studio with Lukas Flarer and mixed and mastered by Obey Mastering in Sweden. The cover artwork was illustrated by Vladimir Chebakov.

A tremendous thunder reigns over the Tyrolean Alps - expect the most devastating dosage of the chainsaw sound!

Tracklist:
1. Ropedragger
2. Waste Monolith
3. Schizophrenic Execution
4. Caged in a Tomb
5. Fall, Rot
6. Where Graves Abound
7. Die Schwanzdirn
8. The Howling
9. Knives

www.facebook.com/organicdeathmetal +++ www.facebook.com/testimonyrecords

---
TOWER - New Album "Shock To The System" this November via Cruz Del Sur Music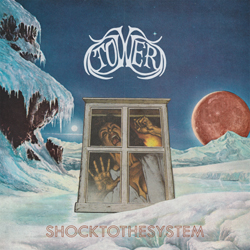 In November 2021, New York City true metallers TOWER will release their sophomore studio album, "Shock To The System", via Cruz Del Sur Music. The album was recorded this May and June at Artifact Audio in Ridgewood, New York, with Sasha Stroud serving as co-producer and engineer. The album's cover was created by Morgan Jesse Lappin.

According to vocalist Sarabeth Linden, half of the music and lyrics for "Shock To The System" were written during the recent lockdown attributed to the global pandemic. The result is TOWER's most complete outing to date - a veritable metal call-to-arms that combines the band's energetic brand of NWOBHM and classic rock into ten anthemic cuts.

"We stayed centered around our established style but took it to new levels in some places," says Linden. "The heavy parts are heavier than before, the fast parts are faster, the slow parts are slower, and one song is around seven minutes, which we've never come close to previously. Musically, there are a lot of firsts on this record."

TOWER (who are completed by the guitar tandem of James Danzo and Zak Penley and drummer James Jones) only has one previous full-length studio album to their credit, 2016's self-titled outing. While their 2019 "Tomorrow & Yesterday" EP featured four songs of rocked-up metal, "Shock To The System" takes TOWER's sound to the next level.

"The first album is already five years old!" exclaims Linden. "It seems so long ago now. The songs that are still in the live set, like 'Flames', 'Raceway Rock' and 'Elegy' are still very much in the vein of the new material. The EP was a bit more simple and aggressive, and those elements are on the album, too, but manifest in a different way. In general, we have grown a lot as a band and as individuals. We've matured, and it's reflected in the music."

TOWER recently celebrated its return to the stage in July. With "Shock To The System" in the can, the band plans on preparing for future live dates - and a new bassist. "We're in the process of revamping the lineup for tour, as Jeff Filmer stepped aside to give his full attention to his bands SHADOWLAND and HUSTLER," closes Linden. "We'll be ready to hit the road by year's end. See you soon! Be prepared!"

Tracklist:
1. Blood Moon
2. Prince of Darkness
3. Metatron
4. Running Out of Time
5. Lay Down the Law
6. Hired Gun
7. The Black Rose
8. On the Line
9. In Dreams
10. Powder Keg

www.facebook.com/TOWERnyc +++ www.cruzdelsurmusic.com

---
ESTERTOR - New Album "Tales From The Ancient Grave" via War Anthem Records - Details and Video revealed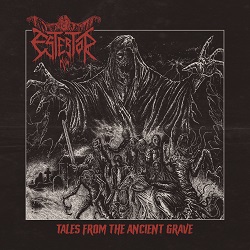 War Anthem Records proudly announces the sophomore full-length of Spanish Thrashers ESTERTOR!

"Tales From The Ancient Grave" will be released on 26th November 2021. It was recorded, mixed and mastered at Moontower Studios by Javi Félez and is adorned with an artwork by César Valladares.

The album is a tribute to the classic horror movies of the 70's/80's (Maniac, The Sentinel, The Thing,…) and offers a mixture of the most furious Thrash like Bathory, Possessed, Sodom or Celtic Frost and old school Death Metal like Death, Massacre, Obituary or Sepultura.

A video clip for the track "Nocturnal Strigoi" is available at this location: https://youtu.be/v-M6G7drtRQ

ESTERTOR were formed at the beginning of 2016, composed of veteran musicians of the Catalan Death/Doom/Black Metal scene like Ered, Decapitated Christ, Onirophagus, Wild Road Roller, Falç and Blazemth. In 2017 they released "Buried in Morningside", their first full-length that compiled old songs and which led them to play all over the peninsula making themselves known in the most evil Thrash scene.

Pure morbid HORROR THRASH straight from the crypts of Catalonia!

Tracklist:
1. Assimilating Flesh
2. Venereal Horror
3. Nocturnal Strigoi
4. The Torch That Corrupted The Earth
5. Blood For Sheetar
6. Repugnant Face Of Death
7. Tales From The Ancient Grave
8. Worship The Black Goat
9. Keeper Of Hell

www.facebook.com/estertorthrash +++ www.war-anthem.de

---
APOSTLE OF SOLITUDE - New Album Announcement - "Until The Darkness Goes" via Cruz Del Sur Music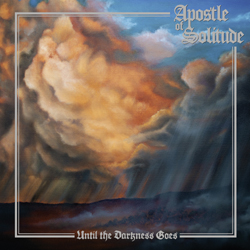 Indianapolis doom titans APOSTLE OF SOLITUDE will release their fifth studio album, "Until The Darkness Goes", on November 12th 2021 via Cruz Del Sur Music.

APOSTLE OF SOLITUDE - featuring vocalist/guitarist Chuck Brown, guitarist/vocalist Steve Janiak, bassist Mike Naish and drummer Corey Webb - initially planned to record the album in late 2020, but health and safety concerns over the global pandemic pushed the start date to May 17 of this year. Once again, the band hunkered down in Russian Recording in Bloomington, Indiana, with long-time producer/engineer Mike Bridavsky at the helm. The album's cover is a fitting accompaniment that was created by visual artist WÆK, who also handled the artwork for the band's 2018 studio album "From Gold to Ash".

According to Naish, the goal heading into the creation of "Until The Darkness Goes" was to write shorter, more compact songs, with an onus on their quality and emotional impact on the listener. "This album is short even by our standards," he says. "The emotion of the lyrics coupled with slower tempos suggest a sudden and painful personal loss, a mood that evolved over the album's creation. It is probably more about refining what we do best as a band - and individuals - to convey an idea as opposed to continuing a theme. In short, it's a more polished version of everything we all loved about our previous records."

The pandemic directly impacted APOSTLE OF SOLITUDE - one of its members lost both parents, casting a pall over its creation. The band took advantage of shifting recording dates to refine the album, resulting in what is unquestionably their darkest and most heartfelt LP to date.

"The pandemic was ever-present as the songwriting process evolved," says Naish. "Thus, more of our personal experiences became infused in our playing and songwriting, specifically around vocal harmonies. To play music together was cathartic for us, but it was also challenging to stay safe during a pandemic. We were fortunate to have support from our label, Cruz Del Sur, to record when we felt comfortable. So, that's what we did."

APOSTLE OF SOLITUDE recently resumed live activity, including two opening slots on the abbreviated THE OBSESSED and THE SKULL American tour. While the band enjoyed hitting the stage once again, they couldn't help but worry things could come to a halt at any time. "There always seemed to be some impending sense of doom (pun intended?) that nothing has any sense of permanence," finishes Naish. "We are generously supported when we tour, and, for that, we are grateful. We owe it to ourselves and each other to pull our weight to bring this pandemic to an end. We want to tour in support of this release when conditions are favorable for both performers and fans. Unfortunately, we cannot predict when that will be. Working musicians are struggling right now to make ends meet, and we feel uncomfortable putting anyone at risk in these trying times. We'll see you all as soon as we can do it safely."

Tracklist:
1. When the Darkness Comes
2. The Union
3. Apathy in Isolation
4. Deeper Than the Oceans
5. Beautifully Dark
6. Relive the Day

www.facebook.com/apostleofsolitude +++ www.cruzdelsurmusic.com

---
ALDA - New Trackstream "Drawn Astray"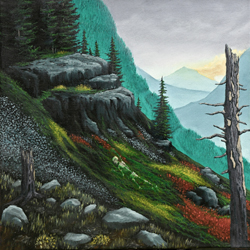 Cascadian sonic architects ALDA have revealed the new track "Drawn Astray"!

The track is the second to be revealed from the band's highly anticipated fourth album, "A Distant Fire", set for international release on October 8th 2021 via Eisenwald. It is available for streaming on all major digital platforms: https://ffm.to/drawnastray.oyd

On "A Distant Fire", ALDA demonstrates a keen sense for engaging songwriting and a use of melody that is sure to enthrall listeners familiar with their work as well as individuals who are new to their sound. Thematically, the album tells a story about facing a dire and uncertain future, of nights illuminated by distant blazes and days obscured by ash and smoke. The songs fuse elements of the aforementioned genres with an ease that allows these songs to develop organically and presents listeners with an enticing sonic experience. The immersive qualities of the album are emphasized by the band's epic compositions, both in length and musical development throughout the songs.

Written between 2017 and 2019, "A Distant Fire" was recorded and engineered during 2020 by Jake Superchi (UADA, Ceremonial Castings), who provides these songs with an appropriately warm and accessible production job that complements the band's music and compositions admirably. Finally, mastering was done by the renowned Mell Dettmer at Studio Soli (Sunn O))), Wolves in the Throne Room, Earth, Elder).

The cover and whole insert artwork was painted by Second Nature Artwork - Craig Strother.

Overall, "A Distant Fire" represents a noticeable growth and transformation in ALDA's songwriting and musical performance, while staying true to the spirit and intentions that have informed their music during their 14 years as a band.

Tracklist:
1.First Light
2.Stonebreaker
3.Drawn Astray
4.Forlorn Peaks
5.Loo-Wit
6.A Distant Fire

www.facebook.com/aldacascadia +++ www.eisenton.de