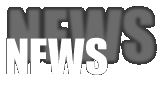 SEPULCHRAL - New Single 'Tombstone Thrower' revealed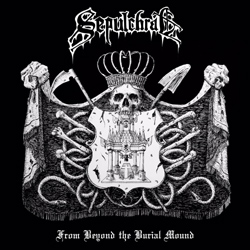 Spanish Death Metallers SEPULCHRAL have revealed the third and final single from their upcoming debut full-length, "From Beyond The Burial Mound"!

The "Tombstone Thrower" awaits you here: https://youtu.be/DjAPwYyg09M

The track is also available on all usual streaming platforms now.

"From Beyond The Burial Mound" will be unleashed via Soulseller Records on February 25th 2022 on CD, LP and digitally. It was recorded by the band members themselves, mixed and mastered by Gorka Pérez and features a cover art by Jaime P.S..

Pre-orders: https://soulsellerrecords.bandcamp.com (World) +++ https://soulsellerrecords.aisamerch.com (Americas)

Get ready for catchy, putrid, crusty Death Metal that will make you jump from your coffin!

Tracklist:
01. The Funerary Dirge
02. Harbor of Drifting Souls
03. Ceremony of Putrefaction
04. Sepulchral Fumes
05. Cursed Epitaph
06. Coffin Miasma
07. Tombstone Thrower
08. Caravan of Putrid Flesh
09. Bastards from the Grave
10. Blood Freak (Necrophagia Cover)
11. Eyes Like Burning Catacombs

www.facebook.com/sepulchraldeathmetal +++ www.soulsellerrecords.com

---
KAMPFAR - New Single "Lausdans under stjernene" via Indie Recordings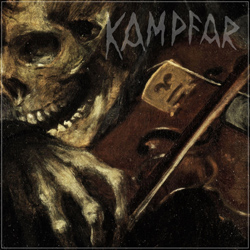 Indie Recordings proudly presents KAMPFAR's new single, "Lausdans under stjernene"!

The return from the mountains is nigh. The four voices bringing with them a hexalogy of stories to share with the world, one by one, until the full picture is as vivid as the starry sky of Hemsedal on a crisp winter night. More will be known in time, until then, dance like the Devil is watching and there is no morning in sight.

KAMPFAR is one of the original Norwegian Black Metal acts. Approaching 30 years of existence and having grown to become one of extreme music's premier live outfits Kampfar prevails and continue to be a force to be reckoned with. Releasing key albums that have both dominated and contributed to form the modern black metal scene as we know it today. Their discography has been featured on numerous best-of-the-year lists and received honours such as the Norwegian Grammy for Metal 2019 for their album "Profan".

Official Track Stream: https://youtu.be/HVc0Gd7nXjo +++ https://orcd.co/lausdans

Line-up:
Dolk - Vocals
Ole - Guitars
Jon - Bass
Ask Ty - Drums

www.facebook.com/kampfarofficial +++ www.facebook.com/indierecordings

---
FER DE LANCE - Debut Full-Length "The Hyperborean" in April 2022 via Cruz Del Sur Music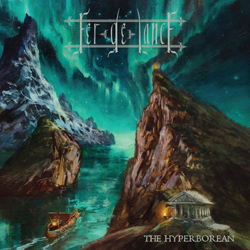 On April 22th 2022, FER DE LANCE will release their debut full-length album "The Hyperborean" via Cruz Del Sur Music. The follow-up to their 2020 "Colossus" EP was again produced and engineered by Matt Russell at Altered States Studio in Chicago.

Occupying the hard-to-find place between "Hammerheart"-era BATHORY, and Rainbow's "Rising", FER DE LANCE have expanded upon "Colossus" with seven new compositions that are rife with intricate and melodic guitar riffs, powerful and soaring vocals, and crisp acoustic guitar arrangements. The band has also expanded their lineup, bringing on the talents of former SEPT OF MEMNON drummer, Scud, and Mandy Martillo of MIDNIGHT DICE and SATAN's HALLOW on acoustic guitars and vocals. MP again played electric and acoustic guitars in addition to lead vocals and tin whistle. Now with a full-time drummer in the band, Rusty focuses solely on bass. All joined in on background vocals and choirs.

"The goal is always artistic progression," comments the band. "We wanted to keep the atmosphere established on Colossus, but we were determined to expand on that statement with our debut album. The album is venomous, yet also melancholic. In addition to incorporating more diverse soundscapes and dynamics, the songs are heavier, more complex and have a deeper underlying meaning."

"The Hyperborean'' title means "one beyond the north wind." According to the band, it combines classical myth with more modern ideas regarding the "idealized" North. The cover artwork represents the album's journey from the Mediterranean Sea to the Arctic North and was painted by Adam Burke with the layout elegantly designed by Annick Giroux.

"The album tells the story of a mariner," says the band. "Leaving behind the depravity and injustice of the "civilized" world, the mariner travels north in search of a land devoid of pain and suffering. At the forefront of the artwork, the temple represents both the starting place and the civilization that the mariner aims to leave behind. The aurora borealis and the mountain of ice represent the desolate destination and the stars above, the guide." The band continues, "The mariner and his crew follow the stars in the hope of salvation. However, what they find is not what they expect and those left unburied never cross Acheron."

In addition to already working on material for further releases, FER DE LANCE is currently slated to perform at the prestigious Keep It True festival in Germany this April. Additional live performances in the USA are also in the works.

Tracklist:
1. Aurora Borealis
2. The Mariner
3. Ad Bestias
4. Sirens
5. Northern Skies
6. Arctic Winds
7. The Hyperborean

www.facebook.com/FerdeLanceMetal +++ www.cruzdelsurmusic.com

---
BLOOD TORRENT - New Full-Length Album "Void Universe" via Trollzorn - Details and Lyric Video revealed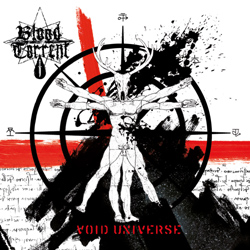 Trollzorn proudly announces the new full-length release of German Black Metallers BLOOD TORRENT!

"Void Universe" will be released on April 8th 2022.

BLOOD TORRENT was founded in 2005 and have developed an own individual style during the years. They fuse their Black Metal sound with progressive elements and influences of classic Hard Rock and Punk. After several self releases, the band now presents their new album via Trollzorn Records, offering a natural sounding recording, especially considering the drums and guitars.

"Void Universe" is not a concept album itself. However, there is a recurring theme within its lyrics: it is about the argument of self-extinction within the Fermi paradox. It raises the question of what would happen if society could start again.

A lyric video for the track "The Cosmic Breakdown" can be checked out at this location: https://youtu.be/QitTSu9DPT4

Tracklist:
01. The Renascence
02. A Knowledge of Light
03. Decay and Transformation
04. The Cosmic Breakdown
05. Elemental Scorn
06. Necromass
07. Raised Knives
08. Phantom Propaganda
09. Prisma
10. The Strive

www.facebook.com/BloodTorrent +++ www.trollzorn.de +++ www.facebook.com/trollzorn

---
VANUM - New track premiere / New album out in April 2022 via Eisenwald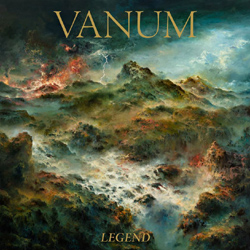 American Black Metal act VANUM has premiered a new song! Taken from the upcoming album "Legend", out April 22nd 2022 via Eisenwald (Europe) and Profound Lore Records (North America/Rest Of World) on CD/Digital/Tape, Vinyl out at a later point.

Check out "Adversary" at this location: https://youtu.be/U9IB5mnsJ8c

After a period of smoldering dormancy, VANUM reappears, blazing and alive, with their third full-length album, Legend. Continuing the triumphant march of previous works, but raising the stakes even higher, Legend finds Vanum both expanding and refining their approach, and in turn delivering their most fully realized recording to date.

The core of the band's sound remains unchanged: unyielding and grandiose Black Metal that traces a hellish through-line from the power of mid-era Bathory, through the riff-craft of the Hellenic masters, to the bitter fury of the Slavic greats. But amidst the pantheon of familiar influences, new touchstones become ever more apparent. With Legend, the continuum is charted further back and to new lands. Within the throes of the Black Metal maelstrom, echoes of classic heavy metal are increasingly recognizable, further bolstering Vanum's towering melodic sensibility and epic songwriting. Coupled with a deeper and expanded exploration and use of ambience and synthesizer, the album is imbued with a richness and sense of majesty that underpins each of its five towering compositions.

Due to the global chaos of 2020/21, initial recording plans had to be scrapped in favor of extremely detailed demo and pre-production work, followed by a remote-tracking process. As the album was recorded in various locations throughout the country, producer Andrew Oswald was enlisted to oversee technical and performance nuance from afar before handling the mixing duties in which he meticulously sculpted the thunderous, full sound of the album. Adorned with an original painting by Petri Ala-Maunus, the entire package from concept through composition, execution, and presentation is one unified by a sense of strength, power, and romantic awe.

While musically dynamic as ever, the overriding theme of the album is one of victory. Victory amidst bloodshed; triumph amidst loss. This is Black Metal as spiritual war, the aural embodiment of ancient combat and heroic struggle. This is Legend.

Tracklist:
1. Adversary
2. The Gateway And The Key
3. Frozen In Vile Illumination
4. Legend
5. Beneath The Pillars Of Earth And Air

www.facebook.com/realmofsacrifice +++ www.eisenton.de

---
WITCH CROSS - New Lyric Video - "Evil Eye"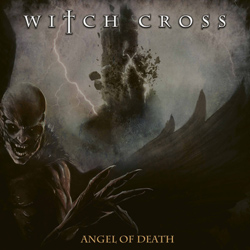 Copenhagen's Heavy Metallers WITCH CROSS proudly present another video from their latest album "Angel Of Death"!

The new clip for "Evil Eye" is an anime style video including lyrics. The fascination with Japanese culture can also be heard on the band's debut album "Fit For Fight" from 1984 when they sang "Night Flight to Tokyo". Both tracks can be heard live when the band will return to play across Europe later this year.

Check out the clip here: https://youtu.be/RcHak9joeWg

"Angel Of Death" was released in June 2021 via High Roller Records.

WITCH CROSS must rate as one of the best Danish heavy metal bands ever. The band's 1984 album "Fit For Fight" is surely one of the top 5 albums in the history of Danish heavy metal. After a long pause, "Fit For Fight" was followed by the second album "Axe To Grind" in 2013.

Tracklist
01. Tempus Mori Est
02. Angel of Death
03. Marauders
04. Evil Eye
05. The Chosen One
06. Phoenix Fire
07. Siren's Song
08. Eye of the Storm
09. Last Rites
10. Warrior

www.witchcross.dk +++ www.hrrecords.de

---
AD NAUSEAM - Debut album available on vinyl for the first time - Lavadome Productions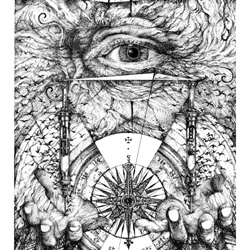 Italian death metal visionaries AD NAUSEAM have just released their 2015 debut album "Nihil Quam Vacuitas Ordinatum Est" on double-LP vinyl edition for the first time via Lavadome Productions.

The album has been remastered to obtain a more in-depth and improved sound as well as gain more dynamic range. A dedicated master for vinyl has been sourced from the new remaster. T

The band, which is known for developing its own equipment to self-produce the sound of its records, comments:

"The mastering of "Nihil Quam Vacuitas Ordinatum Est" started to sound way too far from being perfect to our ears, despite that we are aware it was the best result we could get back then, and it still sounds cool. For this reason, a remaster was in the making since the beginning of 2017. What you can hear now is a high dynamic range remastered version where particular attention has been paid to improve its clarity, punch and dynamics."

Tracklist:
1. My Buried Dream
2. Key To Timeless Laws
3. La Maison Diev
4. Into The Void Eye
5. Terror Haze
6. Lost In The Antiverse
7. The Black Veil Of Original Flaw
8. Superimposing Mere Will And Sheer Need

https://store.lavadome.org +++ https://lavadome.bandcamp.com +++ https://www.adnauseam.it

---
CRYPTWORM - Debut Full-Length Album via Me Saco Un Ojo and Pulverised Records - "Spewing Mephitic Putridity"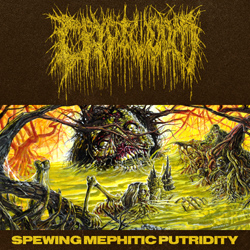 "Spewing Mephitic Putridity", the debut full-length of UK deathers CRYPTWORM, will be released on March 11th 2022 via Me Saco Un Ojo Records (LP), Pulverised Records (CD) and Extremely Rotten Productions (MC).

The opening track, "Disgorged Chunks of Life", can be checked out here: Youtube +++ Bandcamp

Through the album we see the rib-splitting heaviness grow as each of the fantastically ferocious elements of the bands 2 EP's and split seem to be pushed further into overdrive. The faster parts are even more frantic, the slower parts more drudging and the crawling mids ooze slimy soundscapes that only the most vomitous snarls could penetrate them. Primitive yet full of dynamics (though only the most grotesque ones), this is Death Metal that will have every orifice in ecstatic convulsions as the cadaver mutates to the rhythmic destruction throughout.

The artwork was created by Skaðvaldur.

Tracklist:
1. Disgorged Chunks of Life
2. Immense Cerebral Decomposition
3. Reduced to Liquified Mass
4. Disembowelment (Draped in Gore)
5. Premature Entombment
6. Septic Phlegm Asphyxia
7. Amorphous Transmutations
8. Spewing Mephitic Putridity

Line-up:
Tibor Hanyi - Vocals / Guitars / Bass
Joe Knight - Drums

www.facebook.com/cryptworm +++ www.mesacounojo.com +++ www.pulverised.net +++ https://extremelyrottenprod.com

---
THE NEPTUNE POWER FEDERATION - New Video Clip - "Emmaline"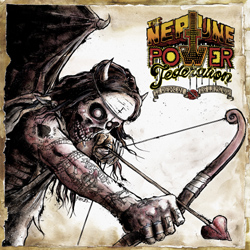 Australian psychedelic rock and roll brigade THE NEPTUNE POWER FEDERATION has premiered another song from their upcoming new album "Le Demon De L'Amour", which will be released on February 14th 2022 via Cruz Del Sur Music.

Check out the video clip for "Emmaline" at this location: https://youtu.be/CIwwPNaPh7o

THE NEPTUNE POWER FEDERATION rocks as furiously as ever on their fifth studio full-length!

Recorded at bass player JayTanic Ritual's The Ped Food Factory in Marrickville, Sydney, with mixing duties provided by Clem Bennett, "Le Demon De L'Amour" leads the band into their tenth anniversary next year. Their journey has taken them from the sweaty clubs of Sydney to a global audience. Now armed with eight love songs sure to melt and captivate the most hardened metal hearts, THE NEPTUNE POWER FEDERATION boldly goes where few bands dare to go.

Off the heels of their acclaimed 2019 "Memoirs of a Rat Queen" studio album, the members of THE NEPTUNE POWER FEDERATION utilized the unexpected downtime afforded from the 2020 COVID-19 pandemic to craft an album that takes more chances than its predecessor. While the band's trademark rock swagger and prog tendencies still come into play, "Le Demon" ups the voltage and energy. True, there is a multitude of genre-blurring taking place, but the album's infectious choruses and leaden riffs easily re-imagine metal and rock's glory eras without blatant thievery.

Of course, all roads to THE NEPTUNE POWER FEDERATION run through lead vocalist Screamin' Loz Sutch and her stage persona, The Imperial Priestess. "Le Demon"'s eight cuts find the indomitable frontwoman in top form, belting out tales of love from a female's perspective, weaving in stories of cult worship, murder and hypnotism. The album's artwork (created by guitarist Inverted CruciFox) also introduces her new nemesis - The Wizzard Princess.

The first single, "My Precious One", is available here: https://youtu.be/NvhJWU4dVfI

Tracklist:
1. Weeping on the Morn
2. My Precious One
3. Baby You're Mine
4. Loving You Is Killing Me
5. Stay with Thee
6. Emmaline
7. Madly in Love
8. We Beasts of the Night

www.facebook.com/theneptunepowerfederation +++ www.cruzdelsurmusic.com

---
SÖLICITÖR - New EP "All Debts on Death" via Gates Of Hell Records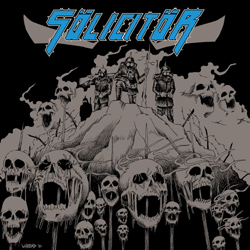 New 7-inch from one of North America's most exciting new speed metal bands!

Hot off the heels of 2020's no-holds-barred "Spectral Devastation", SÖLICITÖR returns with the stopgap "All Debts on Death" 7-inch that charts new territory while still offering first-pumping speed metal anthems!

"All Debts on Death" was recorded in late February 2021 at Sentinel Studios with producer/engineer Detto, who has recently gained attention for his organic production jobs for death metal bands Cerebral Rot, Mortiferum and Oxygen Destroyer. Detto tracked the band on half-inch tape, then recorded the tape to a digital program where guitars and vocals were laid down, ensuring a full and heavy sound.

As a natural function of their collaboration with Detto, SÖLICITÖR ventured into new territory regarding production values. The two songs are devoid of effects, albeit some minor reverb on the chorus on the vocals, although vocalist Amy Lee Carlson opted to completely forego doubled harmonies. The rhythm section of Damon Cleary-Erickson (bass) and Johan Waymire (drums) is much higher in the mix, further complementing the guitar duo of Matt Vogan and Pat Fry. However, the "less is more" approach for studio production doesn't hinder the two songs. "Killer for Hire" is a classic SÖLICITÖR speed-burner, complete with a fist-bumping chorus, while "Megalomaniac" ventures into new territory, including riffs that bring to mind legendary Norwegian black metallers Darkthrone, topped off by Carlson's soaring vocals.

As positive signs gradually start to emerge from the pandemic, SÖLICITÖR is chomping at the bit to return to the live stage. In the meantime, the band is slowly assembling the pieces for their next studio album - due sometime in 2022. Consider "All Debts on Death" a sign of what's to come!

Orders: www.cruzdelsurmusic.com/store +++ https://solicitor-speedmetal.bandcamp.com/album/all-debts-on-death

Tracklist:
1. Killer for Hire
2. Megalomanic

www.facebook.com/solicitor.speedmetal +++ www.gatesofhellrecords.com